Family comes first here at Nashua Riverfront Dentistry!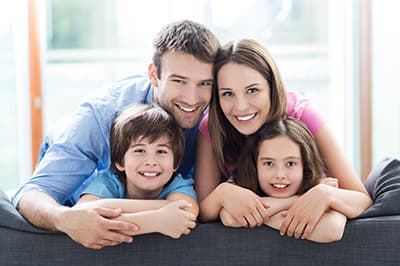 We love treating kids and whole families and everyone on our team recognizes how important positive dental experiences are for your children. In our practice we are committed to ensuring children–of all ages–have a safe, comfortable, and anxiety-free dental experience! Negative experiences at the dentist can form a lifelong fear and avoidance of proper oral care. We believe that through a fun atmosphere that caters to children's needs, they will feel better about dental care through growing up and into adulthood.
Patients of All Ages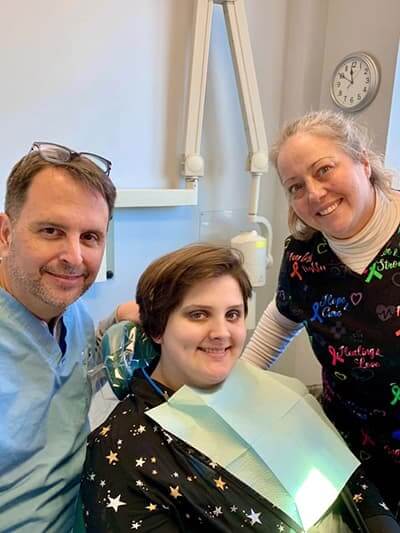 The American Dental Association recommends children receive their first dental examination by the time they turn one year old! As soon as your baby gets their first tooth, they should see the dentist. Even though baby teeth are temporary they are still a vital part of your child's overall health and development. Avoiding sugary drinks and snacks and taking care of baby's teeth before they are old enough to brush themselves lays the groundwork for a strong set of teeth to chew healthy foods throughout life.
As soon as your child is old enough, teach them how to brush their own teeth. We recommend young children have parental involvement in their oral health home care routine until they are 5-6 years old. A full set of healthy teeth need to be brushed twice a day, and flossed too. Older children are responsible enough to stick to their own oral hygiene habits. With you help and guidance, and by making it a fun and positive experience younger children will develop good habits that will last a lifetime.
At Nashua Riverfront Dentistry we provide all types of dentistry for patients of all ages. We can provide fluoride and sealants as an additional preventative measure for children who are susceptible to cavities. Our team is dedicated to using tools and techniques that help children feel comfortable and anxiety free in our care. We can walk your child through treatment and help them understand the value of good habits, healthy foods and preventative measures.
Positive Comfortable Dental Experience for Kids
Going to the dentist can be a scary. We will always prioritize their emotional comfort as well as their physical dental needs. Our staff is friendly and kind with children of all ages, and we understand that the dentist might not be their favorite place: we are ready for just about anything an anxious or excited child could throw at us. We will be sure to talk your child about the experience, guiding them comfortably through each step in their appointment. We are committed to making sure parents and children feel knowledgeable and good about taking care of their teeth.
Accommodating Hours and Care for the Whole Family
School is one of the most important parts of growing up. Missing school time is never convenient, for a child's learning, or for a parent's busy schedule. That's why our hours always stretch beyond the school day, for appointments in the after-school window–and every Tuesday, we stay open as late as 7pm, for even more appointment opportunities for your busy family.
FAQ
Q: My newborn baby doesn't have any teeth yet. I don't have to worry about brushing until the first tooth pops, right?
A: It is actually advisable to brush a baby's gums twice daily just as you would their teeth! Cleaning their mouths of any residual food particles is just as important before their teeth grow. Use a soft cloth with lukewarm water, or invest in a newborn toothbrush, with soft rubber bristles.
Q: My kid is a wild ball of energy at all times! How will I ever get them to sit still for a cleaning?
A: We understand that kids can be kids! Your child will be able to take breaks, wiggle their sillies out, and will be supported through the often frustrating process of keeping their mouths open and heads still throughout any type of procedure.
Q: Is it okay that my child sucks their thumb? Should I encourage them to stop, so their teeth won't be damaged?
A: A child sucking their thumb is a natural form of self-comfort leftover from infancy. Babies still in the womb are even seen sucking their thumbs during ultrasound imaging! The damage thumb sucking can inflict upon developing teeth and jaws depends on the way the child performs the action–resting the thumb in their mouth won't have much impact, while vigorous sucking can damage incoming teeth. We can evaluate your child's bite and recommend ways to manage the situation if it is affecting alignment and position of the teeth.
Q: What are the benefits of getting a custom sports mouthguard for my kid? Won't one from a drug store work just as well?
A: While it's true that over-the-counter mouth guards offers some protection for teeth in a sports related accident, a sports guard customized to fit your child's mouth and bite is highly recommended. In today's world of youth sports, things can get highly competitive and intense–accidents happen all the time. Professional athletes choose professionally made mouth guards for a reason: they just work better. A mold of your child's exact bite will fit better and provide better protection than a boil-and-bite guard. Ask your hygienist about a sports mouth guard for your child athlete at your next appointment!