How do you feel about your smile?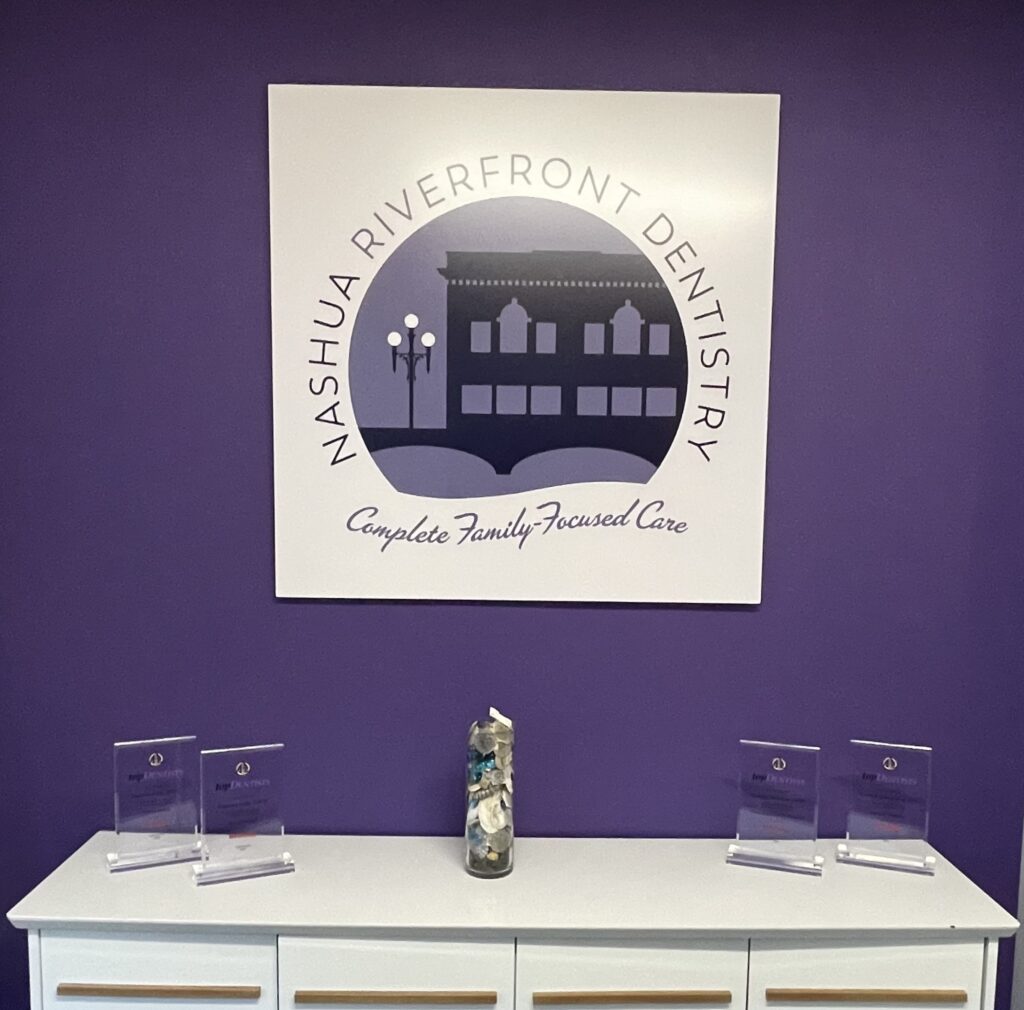 Having a beautiful, straight, white smile can enhance social interactions, improve self-esteem, and overall feelings of well-being. Sometimes, all you need is that extra boost of confidence that comes when you flash your ideal smile!
We offer a full range of cosmetic dental services in our practice. Depending on your concerns we offer a variety of treatment options. Realigning teeth your teeth, correcting shape and positioning, permanently replacing missing teeth with crowns, veneers or dental implants, and correcting color with professional whitening methods.
The hygiene team at Nashua Riverfront Dentistry can go over treatment options with you and schedule you for a cosmetic consultation appointment with our doctors. It is important to discuss the variety of options available and what would work best for your specific concerns and lifestyle. Our Dr. Franco and Dr. Fran are experts in helping you make a customized treatment plan to optimize the look and the health of your smile. They will assess the current condition of your teeth and determine the best way to proceed in procuring results that will give you the outcome you are looking for.
Customized Care
Cosmetic dentistry is not a one size fits all approach, and what works for one person might not work for another–properly researching methods and aftercare is crucial to being satisfied with overall results of a procedure. Don't forget that aftercare and keeping regularly scheduled maintenance that includes cleaning with your hygienist, and it's up to you to maintain the result with a quality and routine home-care regimen!
What is Zoom!?

We are pleased to announce that we can now offer the best teeth whitening system on the market right here in our office. Zoom! is a tooth whitening system designed by Phillips to lighten the discoloration of tooth enamel and dentin. Did you know that tobacco use, certain foods, and drinks like coffee, soda, wine, and even fruits and vegetables like blueberries can cause tooth discoloration? The color of your teeth can be impacted by poor dental hygiene, genetics, certain medications, some diseases, and aging.
What to Expect During Zoom! Treatment
Dr. Franco will consult with you in a dental exam and review your expectations for teeth whitening using a shade guide to show how much whiter your teeth could be. Any existing dental work including veneers, crowns, or bonding will also be evaluated to determine if Zoom! is the best whitening solution for you. We will recommend a dental cleaning prior to Zoom!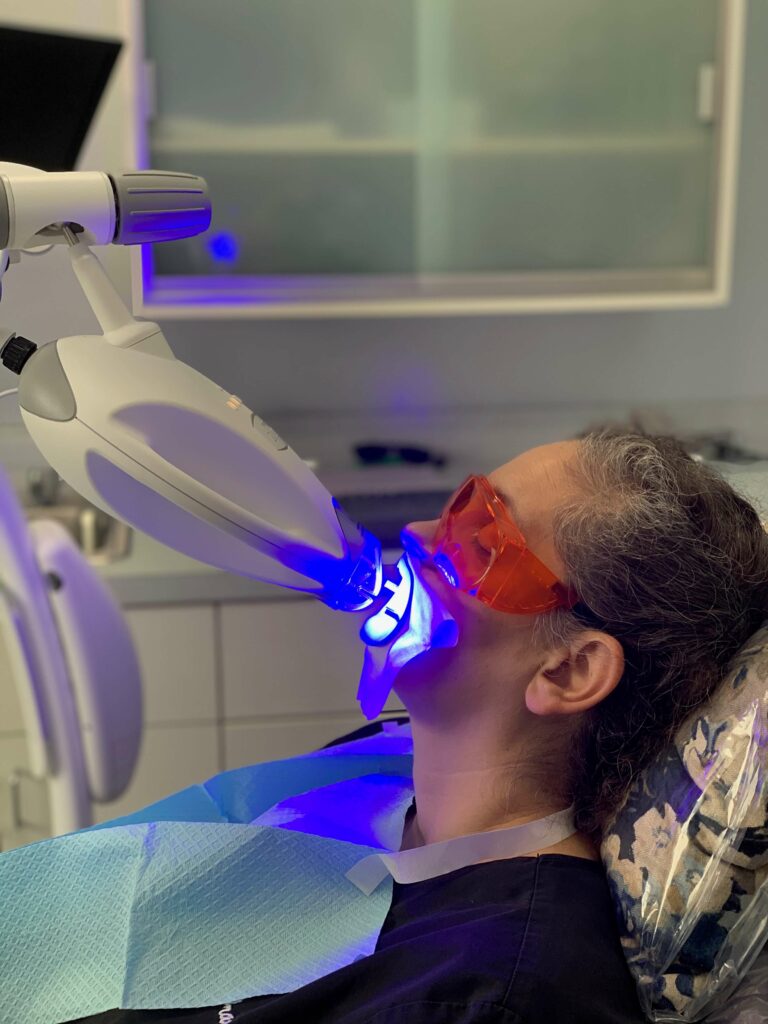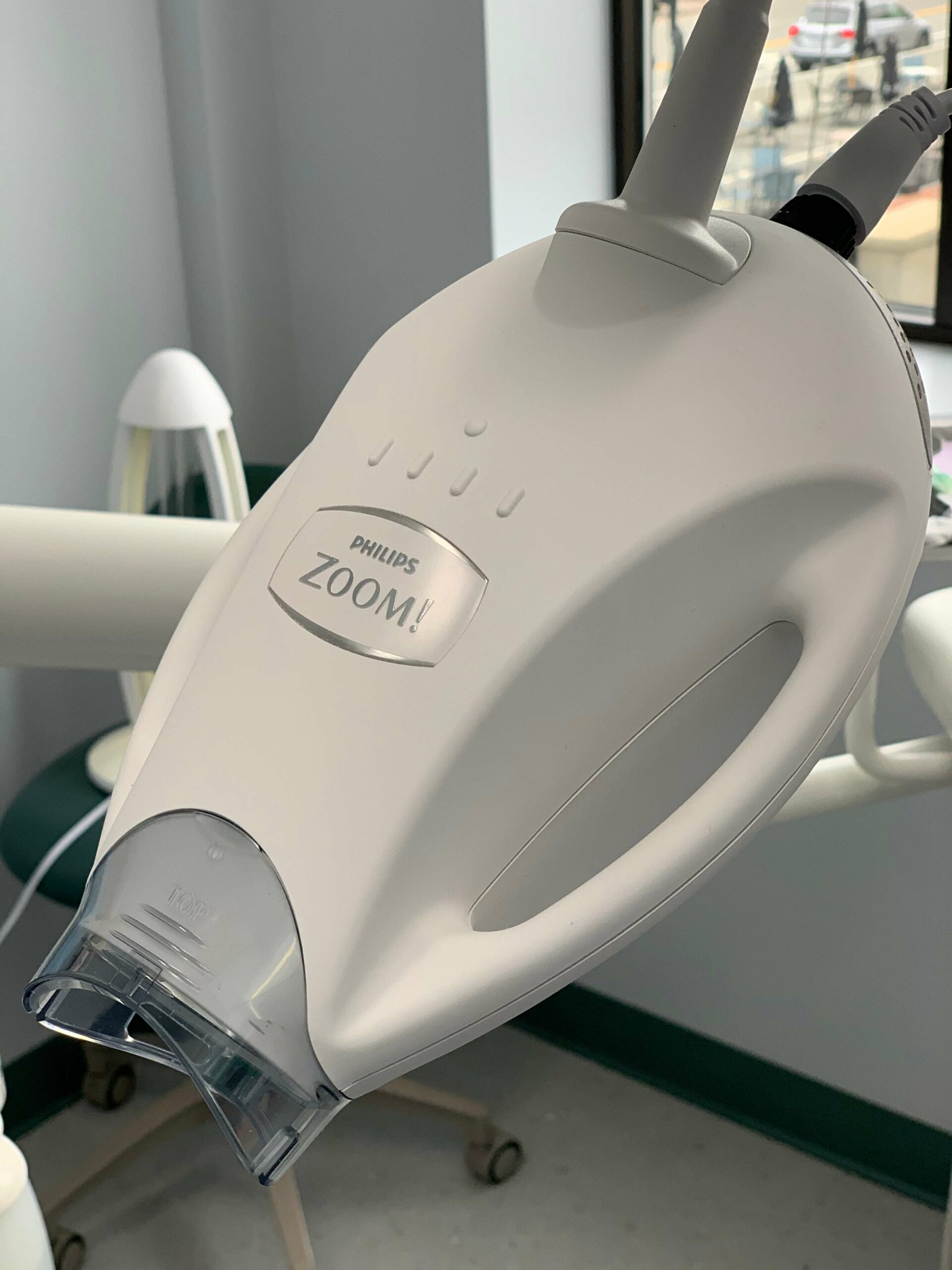 Whitening to achieve the very best results.
Before the treatment begins your gums and lips are covered with a protective material leaving only your teeth visible. A hydrogen-peroxide whitening gel will be applied to the teeth. For the next 15 minutes the Zoom! laser will be used to stimulate the gel. This process is repeated 3 times for a total of 45 minutes at your one-time whitening appointment.
What to Expect for Results After Zoom! Whitening
When you first look in the mirror immediately after treatment, you may see an unnatural white hue to your teeth, within a couple of days a more natural shade will remain. You will be given a take home touch up kit and instructions on use Zoom! If you are looking for a brighter, whiter smile we can help you achieve it!
Whitening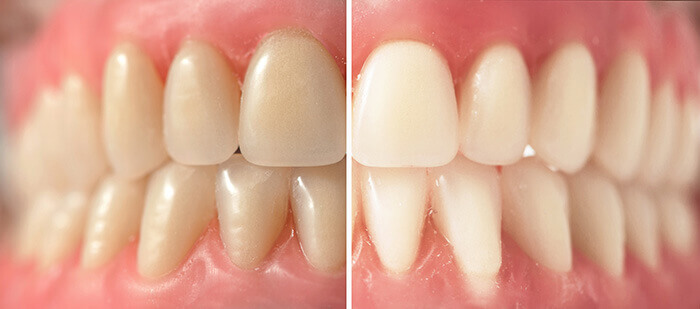 Are your teeth as white and clean looking as you'd like them to be? Shiny white teeth look bright and attractive, stand out in photographs, and give off an overall put together, professional look when you smile. There are many over the counter products available, but we believe it is important to be completely educated on whitening before moving forward with any form of treatment–in other words, don't (necessarily) try this at home! Professional options we offer in our office can give you a longer lasting results with less sensitivity which can be common side effective of whitening treatments.
We can properly evaluate the nature of your teeth and determine your whitening needs, the causes behind your discoloration, and how to properly move forward. While it is commonly assumed that discolored teeth are caused by insufficient brushing and flossing, a variety of factors can affect tooth color, including drinks that stain teeth, smoking, aging, injury, certain type of medication, and foods that stain like blueberries. Teeth whitening products contain bleaches that are safe for your teeth, like hydrogen peroxide or carbamide peroxide. They work by breaking stains down into smaller pieces that are harder to see upon the surface of the teeth. They also make your teeth appear brighter and shinier. While certainly effective on natural teeth, a bleaching treatment will not work on all teeth, such as crowns, caps, or fillings. Your dentist will inform you of what is possible during a whitening consultation.
Unfortunately, not all teeth whitening methods may be right for you, which is why it's so important to consult with a dentist before pursuing any kind of teeth bleaching treatment. If the whitening product penetrates the top protective enamel layer of the teeth, your nerves can become irritated, causing painful sensitivity. Usually this is temporary, however, permanent damage is also possible with overuse of bleaching.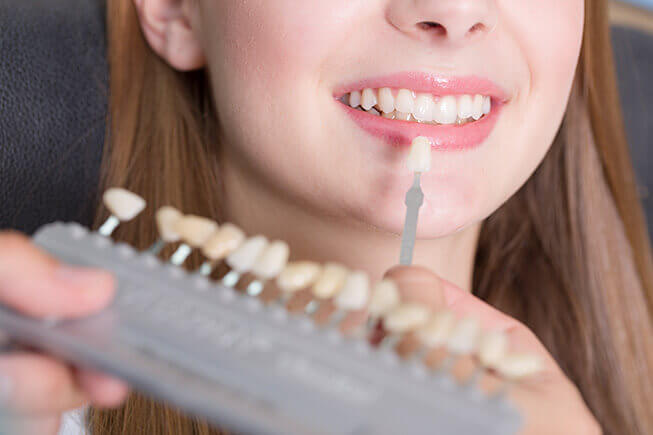 Veneers
Dental veneers provide an aesthetic solution for chipped, worn down, irregularly shaped, gapped, or discolored teeth.
Unlike crowns, veneers are like a thin shell that covers the problem area, concealing it with the appearance of a natural tooth. They are made from porcelain, or a plastic resin composite. They are stain resistant and can provide relief for patients who may be self-conscious about an uneven, or discolored smile.
Like any other cosmetic dental procedures, veneers are not for everybody. Dental veneers are not permanent, and may need to be replaced every 7-15 years, depending on the veneer. They are also not recommended for patients with poor oral hygiene habits, as tooth sensitivity can be increased with the removal of enamel during the tooth preparation process.
Bonding
Dental bonding provides much quicker results than veneers and crowns which can require extensive tooth prep–in fact, you may walk out with newly shaped teeth the very same day!
The tooth preparation process is minimal for a bonding treatment. Unless the procedure is also being used to fill a cavity, anesthesia is not usually needed; your dentist will simply roughen the edge of the tooth intended to be filled and mold a clay-like composite material to the site.
The correct tooth shape will then be molded to fit the desires of the client and the composite material is hardened by a blue dental light. After hardening it is trimmed, shaped, and polished, and you can continue the rest of the day! The entire process can take anywhere from 20-60 minutes, depending on complexity of the area being bonded.